After 3 years of praying for peace in Syria, the Saturday night congregation at Varsity Bible Church wondered what else they might be able to do. By the winter of 2014, pastor Rinus Janson and some others in the congregation began conversations through a connection they had with the Canadian Baptists of Western Canada. By Spring of 2015, the Saturday night congregation chose to pursue refugee sponsorship.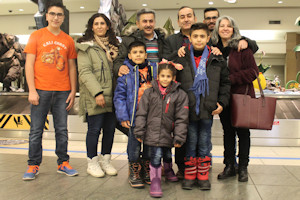 On February 11, 2016 they welcomed Walid and Kefayat along with their 3 children at Calgary International Airport. The family, originally from Aleppo, fled to Beirut in August of 2014.
We have had probably the best experience I could have imagined.
The Sijarzi's (Walid, Kefaya and three kids) are a delightful family that have worked hard at settling into a new land and culture.
We have been doubly blessed by the fact that they are Christian and actively participate in our congregation. Both have shared testimonies, Walid has preached, and both have served communion several times. Having kids has also allowed kids in our community to engage in this process, which has been a master-stroke in helping this family settle in.
Although we made mistakes with paperwork and filing certain forms at certain times, we have done one thing well and it has made all the difference: the Sijarzi's have friends. I was at Walid's 40th birthday party not too long ago and with the exception of Kefaya's sister, who is also in Calgary, everyone at the party was from our church.
Walid has been working on and off for the past few months. He came with experience in auto body, which is a trade that is relatively easy to translate across cultures (as opposed to say, pharmacy). We are hoping he will land a consistent job soon. As such, our financial "obligation" is slowly being phased out.
All told, I'm not sure we would have any advice to give anyone. A large part of what has made this experience so positive is that the family is so easy to like. I would be remiss, however, not to credit a core group of very committed volunteers that have given very generously.
-written by Rinus Janson