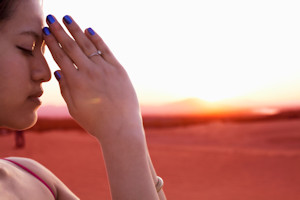 Even before the days of Covid-19, refugees, asylum seekers and those who have been forcibly displaced from their homes needed our prayers. Today they need them more than ever.
Isolation and physical distancing is strange for us in North America. Yet today, many of us are isolated in our homes that are plenty big enough for us. Our fridges are full or at least easily filled; our medications can be refilled with a phone call. Some of us have the blessing of a yard - we can putter in the snow or the soil as the case may be. And our country has passed an Emergency Measures Bill that means many of us will be paid while we stay home.
This is not the case for refugees. When this pandemic hits the camps and cities where soap and water are scarce - well, let's just say, we need to pray for and be a voice of encouragement to as many of these families as we can.
And the good news? We have the means to make a big difference in the lives of thousands. I have a list of refugees ready to be prayed for by name. If you're willing to connect via email, you can encourage them directly.
At the very least, download the pdf "Ten Ways to Pray for Refugees." Share the link with people in your congregation.
More than anything, our world today needs people who will pray. This global pandemic and the refugee crisis are both far too large and complex for us to solve. It is only by the merciful intervention of our kind, compassionate and holy God that any long-term solutions will be found.
If my people, who are called by my name, will humble themselves and pray and seek my face and turn from their wicked ways, then I will hear from heaven, and I will forgive their sin and will heal their land. 2 Chronicles 7:14
Thank you for praying!