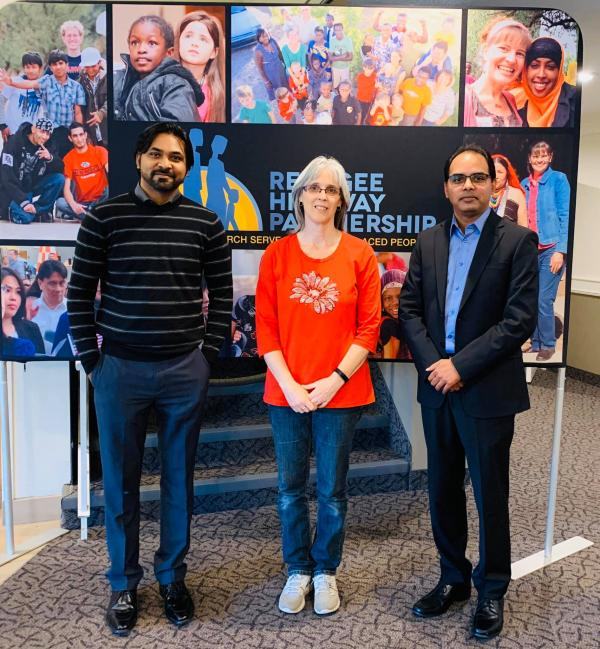 I had the privilege of meeting Farrukh Mushtaq (far right in this photo) and his brother of Refugees 4 Refugees at the Refugee Highway Partnership Roundtable in Toronto in October, 2019. He was part of a group that had been invited to lead the worship at one of the plenery sessions - authentic Pakistani music complete with harmonium and a drummer like I have never heard before!
Farrukh was also one of the featured speakers, sharing his story of life in Pakistan, the blasphemy accusations, his family's flight to Vietnam then Sri Lanka, before coming to Canada. He and his family have lived the refugee story. He knows what it is like to leave everything behind or be killed, and he knows what it is to be forcibly displaced, surviving as you can in a country that has no place for you.
Soon after arriving in Canada, this family joined with many other former refugees to work together on behalf of the thousands forced to flee Pakistan after being falsely accused of blasphemy. Today, Refugees 4 Refugees has 1200 members, 5 employees and over 2,000 connections to help them in their efforts to sponsor refugees. They are able to raise the required settlement support money, but need to work with a SAH to provide local church people and the non-financial settlement support that IRCC requires.
This is a good partnership for us as AGC churches!
R4R provides vetted families and the necessary finances
AGC churches provide the people and capacity to settle a newcomer family in our community.
The church in North America has a long history of praying for the persecuted church around the globe. Today, we have the opportunity to not only pray for our brothers and sisters in Christ, but to physically help them out of their place of suffering. We also have the ability to ease some of the world's suffering as we provide a new home to the ones we can.
Don't misunderstand, there will still be alot of work involved for the local church. The local church will need to find 5 people who will form the Core Team, and then with the help of your SAH representative establish a settlement plan and budget specific to your community, complete the required training and volunteer screening, and then wait to welcome a newcomer family. The main responsibility of the local church will be the relationally important 12 months of settlement support once the family arrives in Canada - helping them to find a suitable home, being a friend to the newcomers as they adjust to a new country, helping them get to appointments, making sure children are registered in school, etc. But by removing the barrier of raising several thousand dollars, many more of our churches can join the refugee sponsorship journey to bring hope and freedom to a refugee family today.
The church is equipped to do this work like no one else. We have been shown grace by our Heavenly Father, and in the midst of the work of resettlement, we know it is our love for the newcomers, our awareness that they too are created in God's image, that will help them establish well, whether they remain in our community for decades or perhaps just for their first year.
This email address is being protected from spambots. You need JavaScript enabled to view it. today to talk about what this opportunity could look like for your church.